See how the award winning author, Jennifer Egan, the beautiful historic New Canaan Library of Connecticut, and Sofia Invitations all have in common.
Let's talk about Jennifer Egan for a sec…
Jennifer Egan, is a award winning novelist and short story writer. Her first major successful fiction book was A Visit from the Good Squad, a set of thirteen interrelated stories with a large set of characters all connected to Bennie Salazar, a record company executive, and his assistant, Sasha. The stories shift back and forth in time from the late 1960s to the present and into the near future. Many of the stories take place in and around New York City, although other settings include San Francisco, Italy, and Kenya. The book was awarded the National Book Critics Circle Award and the prestigious Pulitzer Prize for Fiction in 2011. HBO wanted to make a show out of her novel but she turned it down because of how complex and difficult it would be to portray the time line and characters. Although that book did not make it to the screen, her first novel, Invisible Circus did. Invisible Circus stars Cameron Diaz, Jordana Brewster, and Christopher Eccleston and is about a teenage girl who travels to Europe in 1976 in search of her older sister's suicide. She has published short fiction in The New Yorker, Harper's, Zoetrope: All-Story, and Ploughshares. Her other periodicals and journalism appears frequently in The New York Times Magazine.
Her most recent novel, Manhattan Beach, takes place during the World War II era and tells the haunting and propulsive intertwined stories of heroine Anna Kerrigan, the Brooklyn Navy Yard's only female diver, her father Eddie Kerrigan, who works for both the union and the mob, and nightclub owner Dexter Styles, Eddie's complex and charismatic boss. The book went on the to on New Yorks Times Bestseller. It was also one of New York's "One book, one new York" pick, named one of the best books of the year by NPR, Esquire, Vogue, The Washington Post, The Guardian , USA Today, and Time.

Needless to say, she is a big deal. OH, and she also dated Steve Jobs in college.
New Canaan Library
is located in Connecticut in the adorable town of New Canaan, Connecticut. It has been the towns intellectual center since 1877. As the town grew, the people and leaders knew the importance of a center for reading and learning and so in 1913, they built the building that it still is today, letting its legacy and inspiration live on. This library is not just a building of dusty books and old people, it is a vibrant community resource for learning and innovation, offering an extraordinary print and digital collection, dynamic programming, reader's advisory services, up to the minute technology, technology assistance, and maker spaces. Through their art exhibitions, musical performances, documentary film series, workshops in robotics and coding, and wellness seminars, New Canaan is a place for much more than just learning. It is a place for community, connection, and culture.
As I wrote about in my previous blog, I lived and worked in New York for over ten years. There, I cultivated and crafted my work as a wedding designer and my business grew. Having New York City as my backyard is how I created the New York Skyline wedding invitation, which is one of my best sellers. This invitation caught the eyes of New Canon Library.
I moved to Greenville, South Carolina to be closer to family and grow my business and start a family of my own. I have been here ever since!
Check out my website and etsy shop to see my other invitations and to see if I have designed your city skyline yet:
https://www.etsy.com/shop/sofiainvitations?ref=seller-platform-mcnav
How we all Connected!
One might be asking by now, how does this small wedding invitation business from South Carolina associated with a New York Times Best Selling Author and historic mecca of learning and innovation?
New Canaan Library, the booming place that is is, needs major donations to sustain and grow. Back in 1877, they started from volunteers, donated books, and money they raised together. They still are a donation based facility, which also means elite events and luncheons to keep those checks coming. They have various events throughout the year, and last year their 11th Annual Literary Luncheon featured (you guessed it), Jennifer Egan. She attended and read from her new book , Manhattan Beach. They need unique and creative invitations to invite the right people and right wallets to come and donate to the event and library.
So they contacted me to see if I could design a custom invitation that incorporated the setting of Egan's Book, Manhattan Beach. I looked at vintage pictures of Brooklyn to base the buildings after. I decided on a horizontal gatefold to have more room to combine the Brooklyn Bridge, which was a major setting throughout the book. I wanted to do a dusty grey color to highlight the dark time period in New York where the war loomed, mobsters ruled, and grey smog was everywhere. The submarine hat was a reference from the book that is placed on the donation cards. Check out the results below!
I am honored to be apart of this event and loved how we all connected through the love of New York, innovation, design, and learning.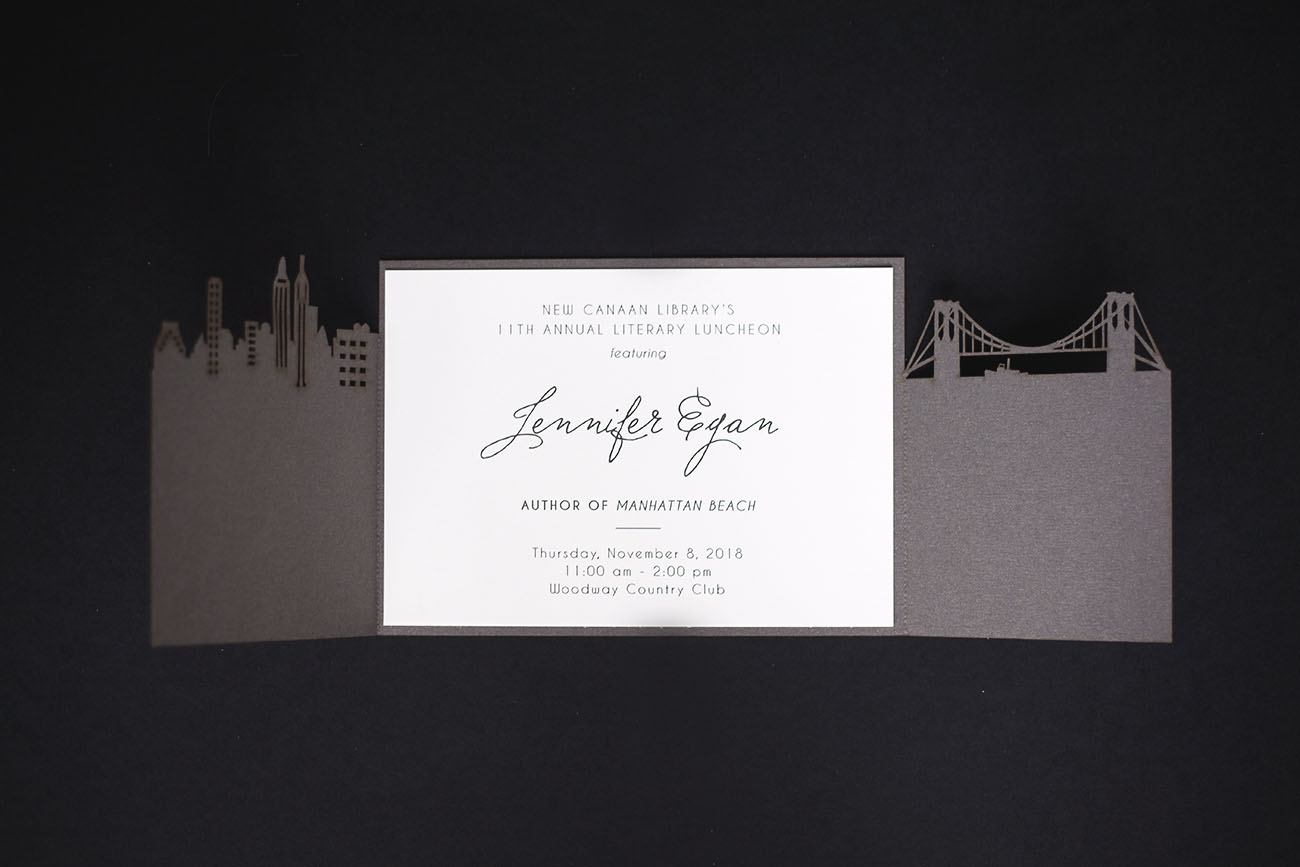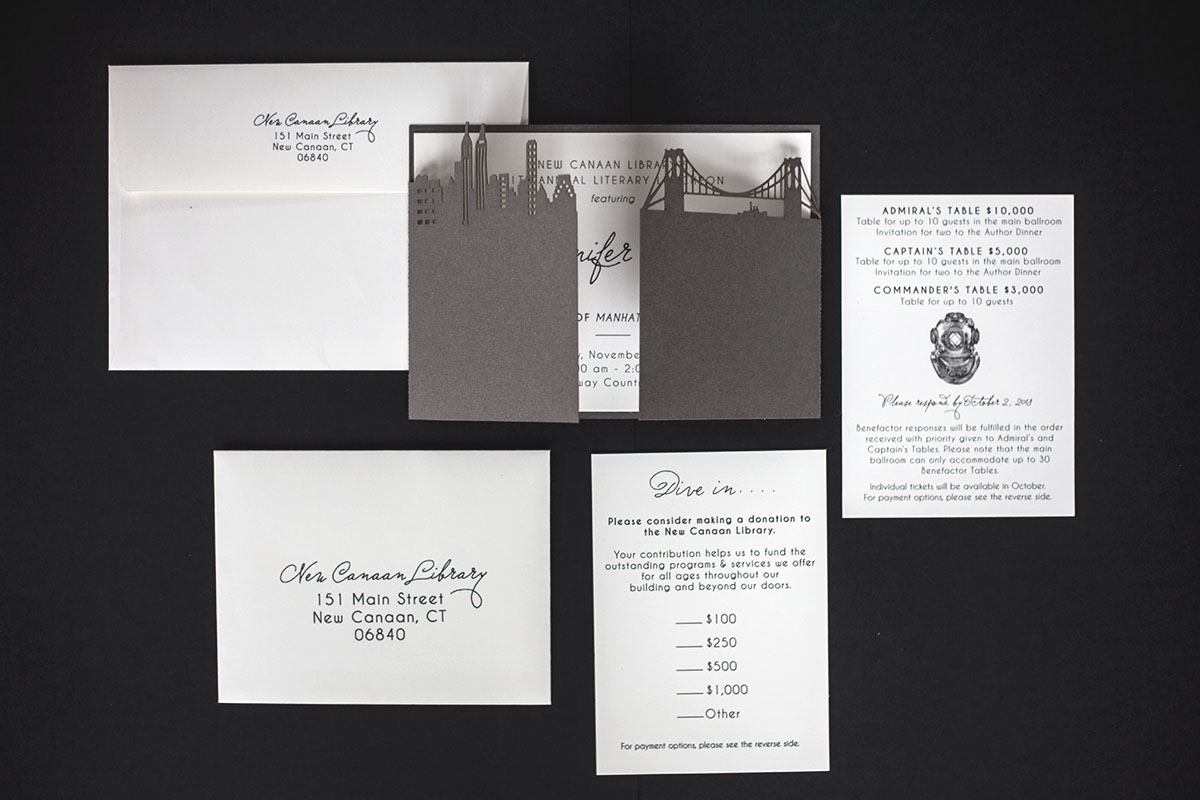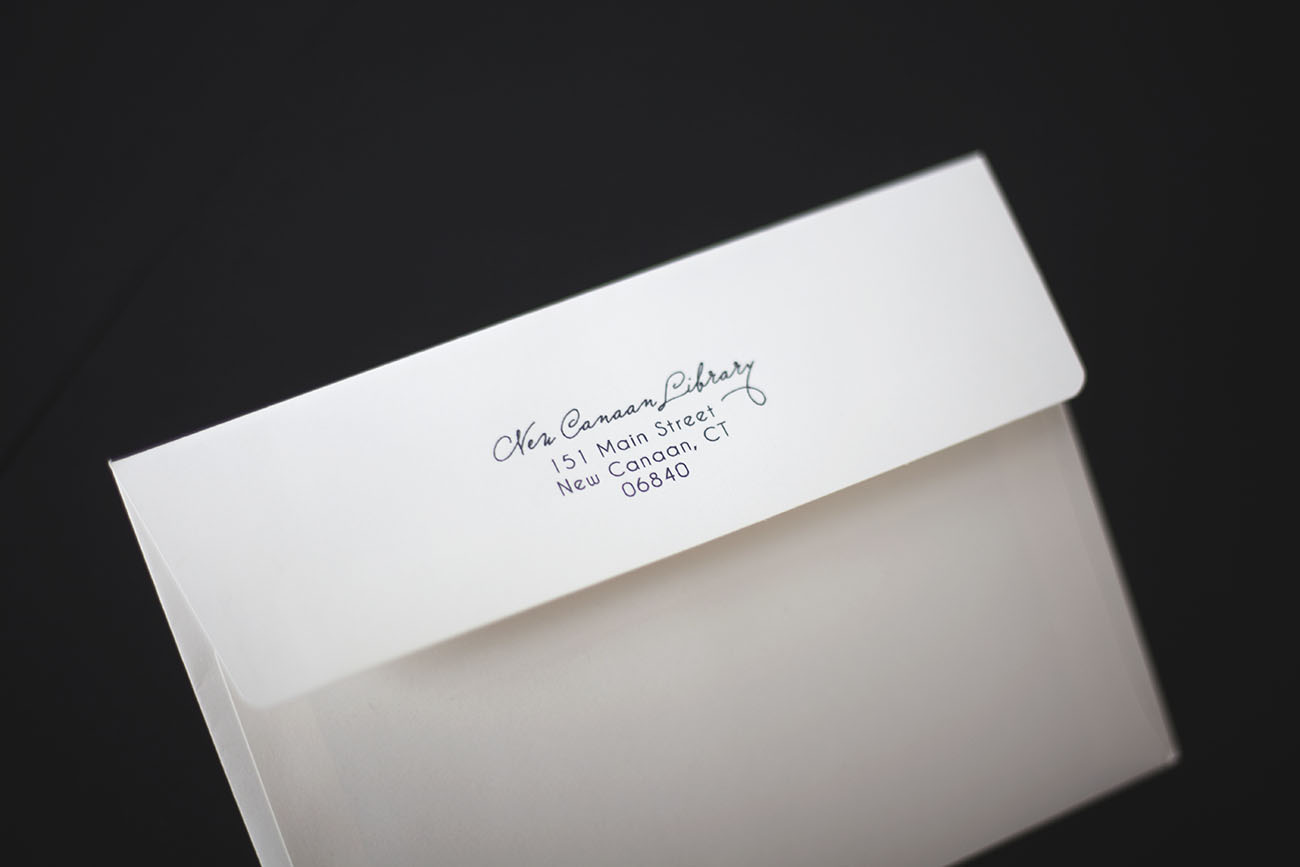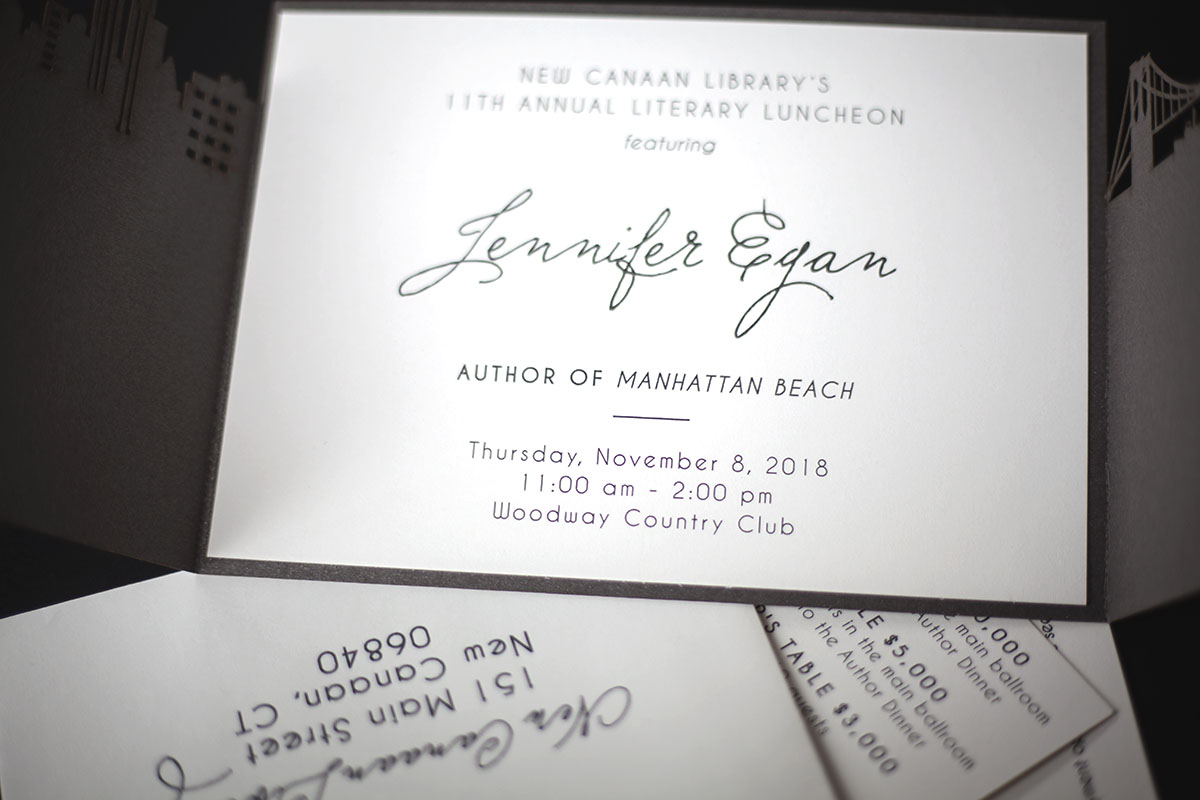 References:
https://newcanaanlibrary.org/about/
http://jenniferegan.com/books/manhattan-beach/
https://www.instagram.com/newcanaanlibrary/
https://en.wikipedia.org/wiki/Jennifer_Egan
http://www.hojaenblanco.com/jennifer-egan-y-el-arte-de-la-escritura/